AMP6 6 GHz Balanced RF Amplifier, 130x43x16mm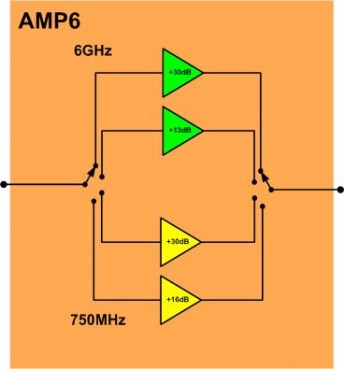 The AMP6 is a dual-band balanced amplifier; 10-750MHz and 750MHz-6.5GHz. For optimal noise performance you can select the gain necessary for the required signal level, and no more .
Each amplifier path is built with a balanced differential structure. The Push-Pull architecture will cancel even harmonics and intermods and can help improve even-order intermod products. Custom 6GHz baluns and 25ohm amplifier stuctures are used on the high-frequency path, 50 ohm transformers are used on the low-frequency path.
750MHz Band
Gain 13 or 30dB

IP2+70dBm
IP3 +44dBm
P1dB +25dBm
6GHz Band
Gain 13 or 30dB
IP2+50dBm
IP3 +35dBm
P1dB is +26dBm.
---
Inputs and outputs use MCX connectors. The module is attached to the host PCB with Mill-Max style pins. Communication is SPI. Power is 5W.