ULNsyn and ULNsyn-ENP 1-2GHz Low Noise Synthesizer, 130x87x16mm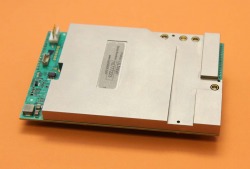 The ULNsyn is a low-noise frequency synthesizer that produces frequencies between 1 and 2GHz with 0.00001Hz resolution (52 bits). Close-in spurs are less than -70dBc and harmonics are less than -60dBc. The Quick-Tune mode gives a 100uS settling time from any Fc to any Fc. RF output power is +7dBm on an MCX connector.

The 100MHz master oscillator is based on a temperature-stabilized SC-cut crystal with excellent close-in noise performance. Electronic adjustment of the oscillator center frequency eliminates costly field adjustments caused by crystal aging or drift in your reference frequency. A copy of this super-pure 100MHz is available on a MCX connector.

The ULNsyn can be locked to a variety of reference frequencies between 10 and 100MHz. An copy of the input reference is available for daisy chaining. If no reference is available, the ULNsyn can be programmed to act as one.
---
ULNsyn-ENP Enhanced Noise Performance option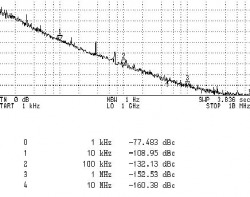 ENP VCO at 1.024GHz
The ULNsyn-ENP option adds narrow-band VCO technology to lower the far-out phase-noise performance and cut the resulting integrated jitter. Loop bandwidth is lowered to 500KHz making the ENP a valuable comparison source for VCO testing.

There are other oscillators with great noise floor performance, but the ULNsyn can be tuned to any frequency !

---
The ULNsyn module attaches to your host PCB with Mill-Max style pins. Communications are via a SPI bus. Power is 18W.