Low Noise is our passion. Check out our world-class signal generation modules.

Apria Technology delivers instrumentation grade RF components as SPI controlled modules.
ULNsyn Low-noise 1-2GHz Synthesizer

ULNsyn-ENP Enhanced Noise Performance 1-2GHz Synthesizer with reduced loop BW

MD20, 60MHz to 20GHz Multiplier-Divider with a +17dBm output

---
---
Apria Technology - Solutions for ATE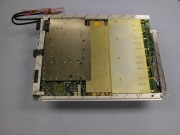 Apria Technology focuses on instrumentation development for the ATE industry. We design and manufacture Digitizers, AWGs, VI PMUs and RF Modules. Our products have included..
1Gsps liquid-cooled AWG and Digitizer for the Advantest T2000
800MHz AWG for the Credence Quartet
2uA to 20mA PMU
800MHz to 1.6GHz Synthesizer

---
---
Apria Technology
PO Box 4676
Rollingbay, WA 98061
USA