MD6 6GHz Multiplier-Divider, 86x43x16mm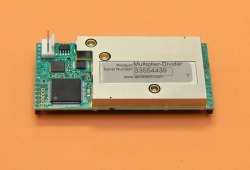 The MD6 multiplies or divides the 1-2GHz output of the ULNsyn Synthesizer to produce an output frequency between 10MHz and 6GHz. Third octave filtering reduces the harmonics to -40dBc between 250MHz and 6.5GHz. The output is digital below 250MHz. Output power is +7dBm on a MCX connector.

A secondary 10MHz to 2GHz LVPECL digital output is also available.

The MD6 attaches to a host PCB with Mill-Max style pins. Communications are SPI and the power consumption is 3 watts.

---